Smule is Connecting the World Through Music®.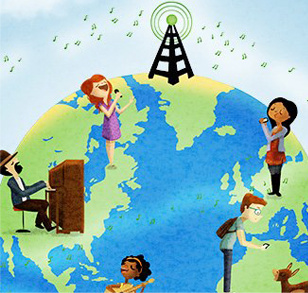 We believe that music is much more than just listening— it's about creating, sharing, discovering, participating, and connecting with people. It is the original social network with the power to break down barriers, touch souls and bring people together from all over the world.
In 2008, we set out to create apps that enabled anyone to create, discover, love and enjoy music. Today, 1.5 % of the world's population (that's 125 million people and counting) have used Smule's apps. And they are creating communities, meeting new like-minded friends, and having fun making music together on Smule.
So if you wake up humming, play a mean air guitar or anything in between, then Smule is for you―anyone can do it, no previous experience required.
Interested in creating social music experiences? Check out our job openings here.
Connect with Smule: Smule on Facebook Smule on Twitter Smule on Youtube Smule on Google+
Realize the immense potential of audio.

Inspire people to reach new levels of self-expression.

Create an interactive social medium to connect the world.
Music
Smule is on a mission to bring the world together through music. With 50 million monthly active users creating over 20 million songs every day, Smule is transforming the landscape of music from passive listening to collaborative creative expression and active engagement.
Community
Smule comprises a vast network of diverse communities of people who create music together, including those people who help build products, services, and repertoire - diverse communities, powered through each of our unique backgrounds, cultures, and values, and fueled by a passion to create. Fostering, enabling, supporting, and empowering this network is at the heart of everything we do.
We are driven to accomplish our vision of bringing music back to its roots as a creative and participatory medium. We have a hard charging culture that does not accept mediocrity. We have extremely high standards for ourselves and for everyone who joins us.
Anything worth doing is worth doing impactfully. Smule is global. The potential Smule has to impact the world is limitless. To have impact, we play offense. We take risks yet we are accountable: we accept that failure is the step function to learning and growth.
Collaboration is not a passive state but rather about active participation, cooperation, and connection. We constructively and openly confront issues that arise in the process of making decisions, and implementing them. Disagreements are natural and positive opportunities. A healthy process involves mutual respect - making opinions heard and listening to others rather than passively second guessing in hindsight. Together, we constantly learn and grow.
We embrace naivety at Smule, bringing the creativity inspired by humility to our products and innovations. If you accept that no one can predict what a person wants, the opportunities to be creative are endless. Alongside this willingness to experiment and explore, there is the companion discipline of testing, measuring, and iterating, using empirical results to validate a new idea.
Trust is hard earned and easily lost. It can not be taken for granted and must be tendered, cultivated, and respected through transparency, discipline and authenticity. Transparency empowers the full organization to confront challenges and opportunities, and facilitates trust.
Creativity does not equal perfection. We embrace the imperfections in order to unleash the superstar in each of us. We celebrate the music that is borne from the imperfections recognizing that's what make us human and connected with each other. Music reminds us that we are all uniquely expressive and to celebrate the joy that comes when we freely support and give to each other with our presence.
gl hf dd gg (good luck, have fun, don't die, good game)
From the very beginning, "gl hf dd gg" has been the shorthand sign-off for many Smule endeavors, projects, presentations, emails. It represents a can-do, enjoy the moment, esprit de corps in that we are all in it together, that we recognize the challenges, and most of all, that we support each other.